So, what about Cottonwood Plaza in Bishop? The master lessee, Chuck Caldwell had claimed that a company named Kearsarge was responsible for activities going on. Meanwhile, many tenants have abandoned ship saying that leases offered were too short and way too expensive. Now, a posted letter says that Rite-Aid is responsible for repairing the old Thrifty store on the bottom floor.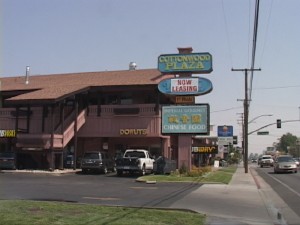 Some sources said that Thrifty had to repair and restore the condition of the old store space as their lease comes to an end. Workers on site more than a month ago told us that they were ordered to stop work because demolition was in the plans.
The posted sign says that Kearsarge is not responsible for the repairs at the old Thrifty space. The letter says Rite-Aid is the responsible party.
Other sources said Mr. Caldwell planned to create 5 new storefronts out of the Thrifty space. Now, it appears that legal differences may have stymied plans.
As a key shopping center in Bishop, the uncertainties, legal differences and lack of support for the big facility has left the public concerned about the future..