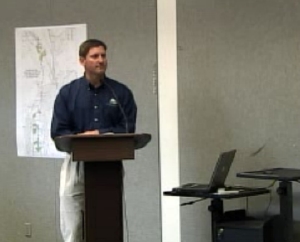 At year's end, numbers of officers in the Mammoth Lakes Police Department continued to drop and concerns grow over public safety. So far, citizens have not demanded any new tax measures to cover cuts voted on by the Mammoth Town Council, but business owners have seriously focused on taxing themselves to pay for more marketing and air service. It's called a Business Improvement District.
Mammoth Lakes Tourism Director John Urdi said that the exploratory committee on this subject planned to meet January 8th to confer with an attorney on which retail stores could become a part of the improvement district and how much they should be taxed. At year's end, the proposed BID plan included a 1% tax on gross income for lodging; 1.5% on retail and restaurant income and 2% on lift tickets and ski school. All the new taxes would raise close to $4 million.
None of it would go to the Town to offset service cuts. Town government would receive a fee for administering the tax. The breakdown of the $4 million raised would go like this – $2 million on marketing, $1.1 million on air service marketing, and $175,000 each on public relations, special events and administrative costs.
The hang-up, so far, has been retail. A number of store owners believe a 1.5% tax is too high. They also think Vons, Rite-Aid and the Do-It Center should be included in the taxing district. The proposal does not include those big name stores.
Tourism Director Urdi said that the exploratory committee members did not want to impact local residents. Retailers say if the big stores are included, everyone could likely pay a lower tax. If a majority of business owners approve of the proposed BID plan, it would go to public meetings and to the Town Council.