Dealing with bureaucracy, Northern Inyo Hospital officials have made huge progress on the hospital re-build and addition project with some delays.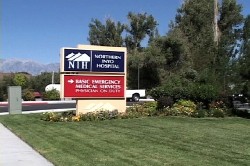 Hospital Administrator John Halfen said that crews were poised to demolish the old hospital, but the State changed procedures which caused officials to make a trip to Sacramento.
Halfen said that the hospital can start demolition about soon after state approval. He expects the work to happen sometime in the next couple of months.
Workers did finish removal of asbestos from the old hospital building, and soon the front entrance of the hospital will also function as the Emergency room entrance. For now, the ER is still accessed from the back of the hospital.