– Press release
Eastern Sierra Nordic Ski Association
Nordic Rocks!!!!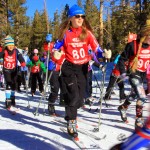 "Promoting cross-country skiing and biathlon in the Eastern Sierra, while encouraging the development of responsible and self-motivated skiers."
Hello friends of Nordic skiing!
If you loved or missed ESNSA's NORDIC ROCKS! country dance fundraiser, don't worry, because here comes another ESNSA NORDIC ROCKS! family fun fundraiser event – the annual Tannenbaum Classic this Sunday, December 14th, at Tamarack Cross Ski Center. Check the schedule below for activities for all of the family. This event is a great way to kick off the Nordic ski season on some great new snow!
Proceeds from bake sale, entry fees and raffle will support Mammoth's Junior Nordic Teams.
RAFFLE TICKETS : Grand Prize is a Tamarack Season Pass. You can also win a private ski lesson from Olympian Nancy Fiddler, a copy of Robin Morning's book Tracks of Passion and items from Brian's, Footloose and more.
Raffle tickets are 3 for $10 or 1 for $5. You do not have to be present to win. Purchase your tickets at Brians XC Skis and Bicycles through Saturday, and at the YURT by the cash register on Saturday and Sunday until the 11:45 drawing.
9:00 – noon – Bake sale at the YURT
10:00 – Tannenbaum 10K Classic ski race starting at the YURT. Distance for the adult race is 10K, for the juniors is 5K and for the kids is 3K. Entry fee for adults is $30 and for juniors/kids $5. This is a great season opener, whether you race as hard as you can or just enjoy a long distance ski with your friends. And it is really fun to watch the other races, adults, juniors, and kids included.
10:45 – Build a snowman festivity at the YURT: You and your family and friends will build a snowman. Bring accessories from home that you might want to use. We will supply carrots, raisins, charcoal, and some branches. There will be a people's choice applaud to recognize the beauty of each one of your creations.
11:15 – Family Fun Relay Race near the YURT with lots of fun surprise challenges in which all of your family can participate.
11:45 – Tannenbaum awards and raffle drawing at the YURT.
Who will win the season pass?
You can't win unless you buy a ticket!
Looking forward to seeing you on Sunday, December 14 at Tamarack!!!!
We believe there are some traditions that should be honored, so we'll continue to find inspiration from quotes provided by Hank Garretson.
"Free your heels and free your mind."
Anonymous