In front of a standing room only crowd, on Monday the Bishop City Council denied the plans submitted by the Neighborhood Church to build an 11,000 square foot gymnasium.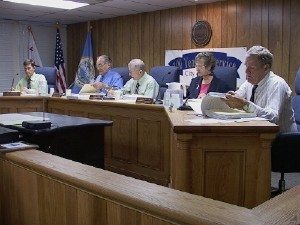 The current church is in an area zoned residential on South St. Parking was the issue cited when the planning commission denied the project. The Neighborhood Church appealed to the city council to overturn the decision, but two of the three council members were not moved by the church members' arguments.
With parishioners packed into the seats, Pastor Ben Peavey told the council that the proposed gymnasium would help the church better serve the community and was not fairly considered at the Planning Commission.
Bishop Mayor Frank Crom and his wife Virginia live next to the project and have been vocal in their opposition. With other churches in residential areas of Bishop, church member Jesse Gorham said that the only plausible explanation for the opposition is the proximity to the mayors house.
The Mayor and his wife werent the only people against the project. It appeared that everyone who stood to speak in opposition to the plans lived within a few blocks of the church. Parking in the already crowded neighborhood of east Bishop was cited often as was a lack of communication from church members.
At one point Virginia Crom and Pastor Peavey appeared to be have a quiet verbal conflict in the front of the room. Crom asked the council for a sergeant at arms and Pastor Peavey spoke of harassment from Crom while he was at the podium.
Mayor Frank Crom and council member Bruce Dishion were not allowed to take part in the voting because they own property close to the proposed project.
Councilmember Martin Smiley Connolly supported the project because it would help teach kids and get them off the street. Council members Jeff Griffiths and Susan Cullen voted against the church because the church members failed to consult with the people who live in the neighborhood. Neither Griffiths nor Cullen mentioned parking as a reason to deny the gymnasium.