NIHD news release
(Third in a three-part series)
What approach does Northern Inyo Healthcare District take to keep its workforce team healthy during the active flu months?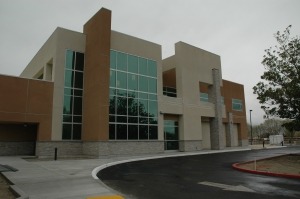 Robin Christensen, NIHD's Infection Preventionist, says the District requires its employees, contractors, physicians, and volunteers to get a flu vaccination each year. "Employees are actually given two options – get a flu shot, and our Employee Health nurse provides them, or wear a face mask from October through the end of the heavy flu activity, which is usually through March," Christensen said. "Some years that extends into April and May, so we go by what the Inyo County Public Health Officer determines to be the end of that period."
Of the 55 California counties, Inyo is one of 39 that requires healthcare workers to wear a mask if they have not taken steps to receive the flu shot.
The NIHD flu shot program vaccinates 98 percent of the Healthcare District's team, a rate of which Christensen and District leadership are incredibly proud. "We're so pleased to have reached the 98 percent mark," Christensen notes. "In the last few years, both our former Employee Health Nurses Cindy Oney and Nel Hecht really worked hard to help us reach these levels. Our new Employee Health Nurse Marsha Male intends to keep those levels high, both as this year's high activity period comes to an end and when the activity increases again in the fall."
Christensen reminds everyone that while flu shots vary in effectiveness from year to year, it is proven that the shots lessen the severity of the flu should you catch it.
With a second wave of the flu hitting the nation, Christensen said it's important for everyone in the community to practice respiratory etiquette. "If you feel like you are coming down with something, or are sick, wear a face mask. Masks help minimize the distance any secretions may travel, so it reduces the chance of sharing your illness with others," Christensen said.
Also, Christensen stressed the importance of covering your cough. "An uncovered cough or sneeze can travel up to three feet from your body and can linger in the air for quite some time," she said. "It's best to cough or sneeze into the crook of your elbow or rather than your hands because it reduces the chance of spreading the germs. A tissue works just as well, just remember to dispose of it in a trash can and to wash your hands."
NIHD encourages those who may feel ill and who are coming to any of its facilities to wear a mask as well. The masks are available at all NIHD entrances along with tissues and alcohol rub.
"This step protects everyone around you, especially high-risk patients such as young children, pregnant women and people with chronic health conditions," Christensen said.
###
About Northern Inyo Healthcare District: Founded in 1946, Northern Inyo Healthcare District features a 25-bed critical access hospital, a 24-hour emergency department, a primary care rural health clinic, a diagnostic imaging center, and clinics specializing in women's health, orthopedics, internal medicine, pediatrics and allergies, general surgery, colorectal surgery, breast cancer surgery and urology. Continually striving to improve the health outcomes of those who rely on its services, Northern Inyo Healthcare District aims to improve our communities one life at a time. One team, one goal, your health.