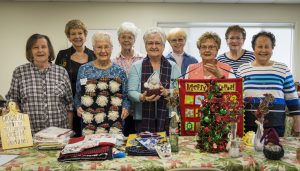 NIH Auxiliary eyes strong Holiday Boutique Turnout to help with Ultrasound purchase.
Sharon Moore smiles as she watches Northern Inyo Hospital Auxiliary members finish craft projects for this Saturday's Holiday Boutique. Bows are tied. Googly eyes glued. Price tags pinned.
Now, it all comes down to turnout. Moore is hopeful for a strong year and with good reason.
"We're buying an Ultrasound machine," Moore says to today's workshop visitor. "One that will be housed in the Perinatal Department. It will give Dr. (Nathan) Slotnick and the Perinatal team an additional resource to help expecting mothers who are experiencing high-risk pregnancies."
Moore pauses, making eye contact with the visitor. "This one means a lot to our members," she says. "A lot."
The NIH Auxiliary will host its annual Holiday Boutique on Saturday, Nov. 2, 8 a.m. to 1 p.m. at NIHD's Birch Street Annex, 2957 Birch St., Bishop, near the Jill Kinmont Boothe School in the Manor Market region. All proceeds from the fundraiser will go toward the purchase of equipment for the hospital.
Across the workshop, retired educator Judy Fratella sits amid a sea of vibrant fabrics, some shiny button eyes, and that ever-so right amount of raffia tied to flower displays. The long-serving Auxiliary president is busily writing out price tags.
"We chose to focus on sewing crafts," Fratella says. "We also focused on making more Fall and Harvest things, at the request of those who came to our boutique last year."
Auxiliary members began this work in January. Now, nearly every corner of the workroom is full.
Patchwork pumpkins, harvest placemats, and festive toy gnomes line a nearby tabletop. Knitted scarves rest in a colorful pile. Beautiful handcrafted doll sets will surely find a loving home.
The effort put into each piece is endearing when one sees the members work together. These volunteers could choose to spend their time, talent and treasure elsewhere, yet their commitment to improving their communities, one life at a time, is as deep as that of the employees who staff Northern Inyo Healthcare District on a daily basis.
In addition to crafted items, the Holiday Boutique will feature See's Candy and a bake sale. The Auxiliary will also host a cash drawing as part of the event. Prizes are $1,000, $300 and $200.
Tickets for the drawing are $1 each or six for $5 and are available now at the NIH Gift Shop in the hospital's Main Lobby. Tickets will also be available at the boutique.
Supporting NIHD since the 1960s, the purpose of the NIH Auxiliary is to render service to the hospital and its patients through ways approved or proposed by the Governing Board of the Northern Inyo Healthcare District. To date, the Auxiliary has given almost $600,000 toward equipment purchases for the hospital.
The Holiday Boutique is the NIH Auxiliary's largest fundraising event of the year. The Auxiliary also operates a successful gift shop in the NIHD's Main Lobby that serves not only as a profitable venture but also as an essential service to patients, visitors, and staff.
The gift shop features an array of items, including snacks, unique seasonal gifts, jewelry, baby clothing, and the Auxiliary's much-talked-about handmade baby blankets and quilts. See's Candy is available year-round, and the shop carries gift-able items for those visiting hospital patients, including a small selection of floral arrangements from Devon's Flowers. The Gift Shop is open Monday through Friday, 1-4 p.m.
Membership in the Auxiliary is open to men as well as women. Anyone with questions about the boutique, or who interested in joining the Auxiliary, may call Sharon Moore at (760) 872-4198 for more information.