By Deb Murphy
Downtown Bishop has begun an incremental morphosis. From the addition of 70 hanging flower baskets to the realization of Bishop Chamber of Commerce's Building Improvement Project grant funding, the Main Street corridor is looking more cared for, more diverse.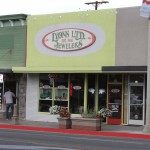 The stretch of U.S. Highway 395 will never be a backdrop for "Uptown Funk," but it is becoming more inviting. The baskets, recently put up by the City of Bishop, join existing planter boxes and benches to increase what city planners call "pedestrian friendliness." The grant funding, $7,500 donated by an anonymous sponsor, allowed three business to improve their facades and signage.
Lyons Jewelers has had a nomadic existence, moving five times around Bishop before settling on Main Street four years ago. "I like being downtown; I'm never moving again," said owner Sharon Rock. With the BB-IP funds, Rock was able to re-set her store sign, making it more prominent. She contracted for façade painting on her own dime. "It was all or nothing. Now people will know it's me." As a small business owner for 42 years, Rock admitted improvements often take a back seat. "The chamber did a great job," she said, "and big 'cudos to the donor."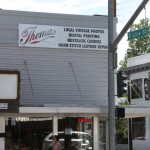 Steve Thomas's Thomas Photography and More moved into the former Brock's Sporting Goods at the corner of Line and Main streets almost two months ago. With his Thomas Photography and More sign already up, he used the grant monies to expand on the "and more" part of the retail operation with lettering on the south and west building walls. A unique part of the "and more" are rare, original drawings by the late Garrett Spoonhunter. Thomas will be offering a mix of photo services, digital printing, framing, art and photographs for sale on consignment, nostalgic candy (think Mayberry), ammo brass and hand-stitched leather repair.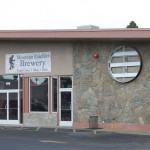 The third recipient of funding is the Mountain Rambler Brewery taking up a little more than a third of the original Safeway. According to John Louth, one of the brewery owners, the left-over Safeway circle with the Mountain Rambler logo added will soon introduce Bishop to visitors coming from the south.
The funds have been put to use to fix some of the circle's electrical issues. The finished product, done by Alpine Signs, will be in place within the next month or so. Louth and Joe Lane, the principal owner and brewmeister, have big plans: expanded hours to include lunch, a front deck and expansion of its current four-tap system to a 12-tap system featuring three or four guest beers. Louth describes the menu as "eclectic, healthy bar food", not as oxymoronic as it sounds, and the product coming out of the micro-brewery as "pretty delicious" pale and dark ales, porters, brown ales and an Extra IPA for true dark beer geeks.
You never know. Saturday night, Bishop might be the spot. Don't believe me, just watch.