-On the news scene in Inyo County, Public Defender Gerard Harvey was arrested Monday following court. According to INET Commander Jeff Hollowell, Harvey was arrested on an allegation of threatening a witness in a case. The witness, Hollowell said, was also a client of Harveys in another case.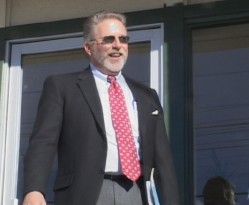 That individual reported the alleged threat to INET. The Inyo Supervisors had recently approved a new public defender contract with Harvey, who had earlier been arrested on allegations of being under the influence of a controlled substance. Harvey had said he is in a drug diversion program and doing well. That was prior to the recent arrest.
-Local Cable TV viewers were up in arms over Suddenlinks announcement that they could no longer include KOLO in the TV line-up. Thats the ABC station in Reno. Chuck and Mary Mae Kilpatrick of Bishop wrote to John Tyson, a KOLO personality, to see if somehow KOLO, Channel 8, could continue on the Bishop cable system.
Suddenlink Plant Manager, Mark Bandini, says that as a result of customer phone calls, KOLO is now willing to re-negotiate. He said they were concerned about stepping on KABC in Los Angeles since they are both ABC affiliates. Hope continues for KOLO.
-Tired of being in the dark. After two power outages in Bishop and the Owens Valley, DWP customers wondered what was up. Chris Plakos, DWP Public Information Officer, said that Edison is in the midst of a major upgrade of their transmission line which crosses DWPs line. The process caused DWP to kick off twice. Plakos said Edison thinks they have resolved the problem, but they are continuing the line work this week.
-And, yet, another thing. The State budget crisis pushed Inyo County into suspension of County Resource Advertising contracts. That means a cut of funds to the Bishop Chamber of Commerce.
The Chamber will lose $56,000, designed to fund six projects California High School Rodeo State Finals, Winter Fish Planting on the Lower Owens River, Trout Opener Press Reception, Blake Jones Trout Derby, Bishop Creek Canyon Summer Classic Fish Derby and a Fourth of July Celebration Weekend.
Tawni Thomson, Chamber Director, said they will work to save costs and make projects happen. She called it a struggle.