At the Inyo Supervisors meeting Tuesday, Bruce Ivey with the Friends of the Mt. Whitney Fish Hatchery gave the board an update on their efforts to revive the troubled but beautiful hatchery near Independence.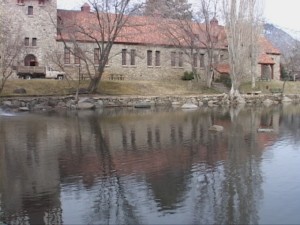 On top of the budget cuts, the shift of Fish and Game priorities to other hatcheries, and then the flood, the famous hatchery had hit tough times in recent years. Rather than see the hatchery fall apart the non-profit Friends of the Mt. Whitney Fish Hatchery stepped up to renew life at the facility. Earlier this spring, trout from the Mt. Whitney were planted into Diaz Lake for the early opener.
After the trout rearing ponds were destroyed in the flood that ripped down Oak Creek in 2008, the group helped restore the ponds and Fish and Game supplied the broodstock. Many local people and businesses donated time, money, and materials to the project, plus volunteers have put in thousands of hours to get the hatchery back up and running.
Supervisor Linda Arcularius praised the Friends of the Mt. Whitney Fish Hatchery, saying that without the private/public partnership with Fish and Game, the hatchery would have been sitting there now as it was the day of the flood. She also said, What youve done is really amazing.
The Friends of the Mt. Whitney Hatchery have a new batch of trout eggs that were set to hatch by this weekend, and Ivey also told the board of the groups plans to build a new interpretive center in the main building. The project is expected to cost over $70,000, but the group has already raised $40,000. The supervisors approved an additional $6,000 of Fish and Game fine money to go toward the project.