For the handicapped, disabled or elderly, sometimes the beautiful spots of the Eastern Sierra remain just out of reach. That was the case at Diaz Lake south of Lone Pine. All of that changed when lots of folks got together to create a brand new handicapped dock over the lake waters.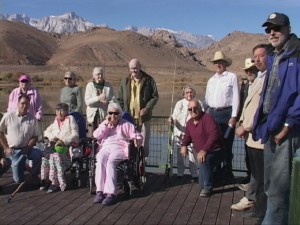 Lone Pine veteran Bruce Cotton came up with the idea and Lefty Irwin and the Bishop Lions Club took the lead in the project. Irwin says he really likes to create public projects that help people. Irwin said the LADWP paid for virtually all of the expenses and did some of the work. Volunteers did the rest. Members of the Lone Pine Lions Club worked on the project, too.
Some residents of the Skilled Nursing Facility at Southern Inyo Hospital came down to dedicate the new dock. They were joined by members of the Lone Pine and Bishop Lions Clubs.
One more great way to enjoy one of our local lakes and one more example of community efforts and cooperative work.