What political agenda or fact-finding mission might two top Los Angelels officials have in mind as they traveled to Israel?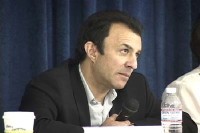 LADWP General Manager David Nahai and LA Mayor Antonio Villaraigosa did take the trip to Israel. DWP Public Relations manager Joe Ramallo said that they planned to deal with a number of issues – airport security, building standards and water conservation.
Asked if the pair of politicos would look into desalination, which, if used in Los Angeles, might save a lot of water from here and elsewhere. However, Ramallo said he didn't know if Nahai and the Mayor would look at Israel's desalination operations since Israel's costs would differ from Southern California.
But the pair did expect to look at other of Israel's water technologies and ways to conserve.
Ramallo did say, on water issues in the Southland, that the Water Board did pass tougher restrictions on water use and the budget to enforce them. Ramallo said LA has the "toughest program of enforcement and will actually cite people for wasting water."
After the initial warning, violators will have to pay a $100 fine.
As for Nahai and Villaraigosa, we hope to find out more about their trip later.