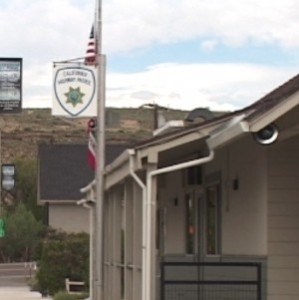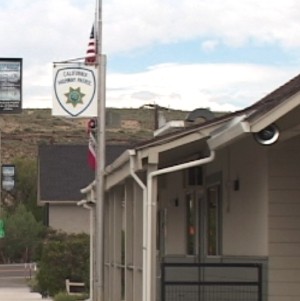 (CHP Press Release)  On Friday, April 18, 2014, at approximately 1:15 PM, Party #1, a 61 year old male from South Lake Tahoe, California, was riding a 2002 Harley-Davidson motorcycle and was traveling southbound on State Route (SR) 182 at an unknown speed. Party #2, a 50 year old male from Winnemucca, Nevada, was driving a Ford, F-250 pick-up truck northbound on SR 182, 8.5 miles north of Bridgeport, California. Party #1, the motorcyclist, allowed the motorcycle to cross the double-yellow lines into the northbound lane and strike the left rear of the Ford pick-up. Party #1 sustained major injuries.
Rescue personnel from Bridgeport Fire Department and Mono County Fire/Paramedic Rescue # 7, stationed in Bridgeport and multiple personnel from the California Highway Patrol's (CHP's) Bridgeport office responded to the scene. Due to the victim's condition, a Care Flight medical helicopter was dispatched, assisted in landing at the scene by fire department personnel and the victim was airlifted to Renown Regional Medical Center, a level II trauma center, in Reno, Nevada.
As of the time of this press release the cause of this collision is still under investigation by the California Highway Patrol. Preliminary indications are that alcohol and/or drugs are not a factor in this collision. "Now that the weather is warming up, and getting nice, we will be seeing more motorcycle riders in Mono County. I encourage them to ride safely, and enjoy the natural beauty of the area. I hope other motorists are always attentive to the possibility of a vehicle traveling the oppostite direction crossing into their lane….and that they have a plan to avoid a collision, " said R. D. Cohan, commander of the CHP's Bridgeport Area office.