FOR IMMEDIATE RELEASE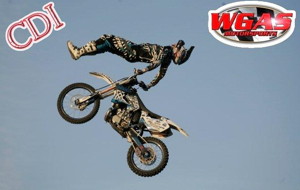 The Eastern Sierra Tri-County Fair is proud to announce the addition of a WGAS Free Style Moto Cross show to the opening of the ATV Rodeo on Friday, August 29, 2016.  "Basically our fans are getting two shows for the price of one. In addition to the ATV Rodeo which is shaping up to be a great event for us, we are now offering an opening act of two professional FMX riders doing aerial stunts from their custom ramp. It's going to be a great show for the whole family where you can cheer on your friends and neighbors in the ATV rodeo and enjoy a professional FMX demonstration all for one ticket," explains Fair CEO Sally Symons.
 " Freestyle Motocross (FMX) is an incredible evolution of motocross racing in which motorcycle riders attempt to impress the crowds with hair-raising jumps and stunts. Riders display their jumps – usually covering more than 60 feet – from a metal take off ramp to a metal landing ramp. Riders demonstrate their abilities by performing difficult tricks and variations over jumps," states WGAS representative John Borba.
Tickets for the ATV Rodeo and FMX show are available at the fairgrounds or by calling 760-873-3588. All seats for this event are general admission and include fair admission. The charge for adults is $16.00 and Children is $12.00.