Morgan Wade Kinney Sr. was born in Bishop, California on May 4, 1959 to Harold Kinney Sr. and Beverly Yandell Kinney.  Morgan grew up and attended school in Bishop, CA.  He worked as a laborer until he suffered a debilitating back injury.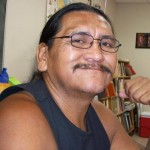 Morgan had three children Marcus Kinney Sr., Morgan (Jake) Kinney Jr., and Marla Kinney before meeting the love of his life, Juanita Butterbredt Kinney.
Morgan and Juanita were married on September 1, 1989.  They spent 22 happy years together as husband and wife before Juanita passed away in 2011.  Juanita was proud to be Morgan's wife.  She even had a sweatshirt made that said, "Property of Morgan Kinney".
Morgan loved Juanita very much – they were inseparable.  Morgan and Juanita did so much together in the 22 years they were married.  They traveled to numerous places as often as they could, went exploring mines and petroglyphs, worked on their home and garden, raised grandchildren, went wooding, and enjoyed family birthdays, BBQs, and dinners.  They were happy together and loved exploring the outdoors.  Sometimes they would just get in their car and go nowhere in particular.  They loved buying lunch makings and going for day rides.
Morgan was even happy to tag along when his wife went clothes shopping which was often.
Morgan loved spending time with his grandkids, nieces, and nephews.  One of his favorite pastimes was fishing.  He loved catching "pugwee" and often took his grandkids, nieces, or nephews, fishing in all the creeks and secret spots until his disabilities caught up to him.  When asked what he wanted for his birthday or Christmas it was always fishing lures or something related to fishing.
After Juanita passed away in 2011, Morgan longed to go home and be reunited with her.  Morgan Wade Kinney Sr. passed away after a lengthy illness on November 20, 2014 at the age of 55.
Morgan is survived by his sons Marcus Kinney Sr., Morgan (Jake) Kinney Jr., Harold Butterbredt Sr., Larry Cawelti Jr., and Jonathan Cawelti; daughters Marla Kinney and Teri Red Owl; sisters Victoria Kinney and Kimberly Kinney; brothers Harold Kinney Jr. and Frank Shoshone; mother Judy Kinney; grand-children Shaylah Kinney, Marcus Kinney Jr., Araya Kinney, Waylon Butterbredt, Harold Butterbredt Jr., Noah Williams, Alexis Red Owl, Joseph Red Owl, Isabella Red Owl, Cody Cawelti, Chance Cawelti, Nakona Cawelti, Chase Cawelti, Markie Wilder, Clifford Wilder, Loni Romo, Kyle Davis, Joseph Rock, Nakia Hanks, Charles Hanks, Tulie Rose Barlow, and Sunny Butterbredt.  He is also survived by numerous aunts, uncles, nieces, nephews, cousins, and friends.
Morgan is preceded in death by his beloved wife Juanita Kinney, mother Beverly Yandell Kinney, father Harold Kinney Sr., sister Nancy Kinney Shaw, brother Stuart Kinney, and granddaughter Kelly Kinney.
Burial services will be private per Morgan's wishes.  Interment will be Sunland Indian Cemetery.