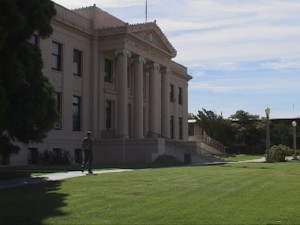 After many years of planning and consideration, there is now little public opposition to the County Office Complex in Bishop. The Supervisors recently approved non-binding plans and finances with the news that annual payments for the building will equal around $690,000 which is roughly $330,000 more than the County now pays for Bishop office space. How do officials justify this?
County Administrator Kevin Carunchio said that now Bishop leases go up more than 4% per year and that over the decades the County will actually save as much as $37 million in costs through the new building project including rents, utilities and even personnel over time. But what about the next several years and the $330,000 additional cost if the project goes forward?
Carunchio said that Health and Human Services will take about half of the building and will pay for lease costs with state and federal dollars. He said public safety will occupy another big chunk of the building. He said the County maintains a Criminal Justice Facilities Trust which now holds over $700,000. All told, the Administrator thinks at least 75% of the additional cost is covered.
As he did at budget time, Carunchio admits tough budget times lie ahead. He said long-term, the office building will give the County control over its expenses and eventual ownership of a modern building.
Meanwhile, Carunchio says the current labor contracts that the County anticipates signing will cost County government $1.8 million more next fiscal year. He said employees have gone four years without a cost of living increase. Citizens also know about low wages during the recession since 2008 and wonder how the County will pay for increased salaries.
Carunchio feels confident the County can manage. He has called on a high profile consultant, Frank Benest, who is the former City Manager of Palo Alto, to hold a workshop with the Board and department heads on creative budget solutions. The Administrator said Inyo will "do things to avoid lay-offs."