State funds have gone down and gas prices – nothing but up. For Eastern Sierra Transit this spells lack of funds and cuts in service.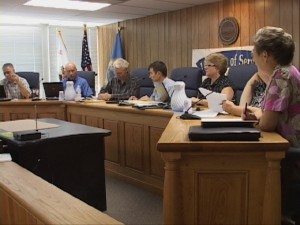 With some cuts already made, the ESTA Board will now consider a slice in Dial A Ride service in Bishop and Walker. They have scheduled public input meetings on this. The first meeting – Angelope Valley Senior Center in Walker next Tuesday, July 1st at 1pm. One proposal would more than cut Dial A Ride service hours in half.
Another public input meeting will unfold next Wednesday, July 2nd, at the Bishop City Council Chambers at 10am. In Bishop, the proposal is to cut Dial A Ride service from 44 hours per day to 36 hours, Monday through Friday.
In response to news that ESTA fell short by $170,000, the ESTA Board did vote to cut some services. They sliced the Walker to Bishop route, the Mountain Express and the Lone Pine-Olancha – Keeler route.
The high price of gas has contributed largely to this problem. Ironically, it is because of gas prices that more people may want to ride the bus.
ESTA Board members did say that they might consider a rise in bus fare to make up budget shortfalls since more people may start to use bus service.
They also acknowledged that the elderly, poor and disabled have an ever greater need for the buses.