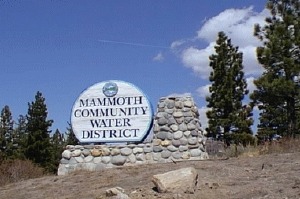 Members of the Great Basin Air Pollution Control District Board were surprised when three Mammoth Community Water District Board members showed up at a recent APCD meeting in Alpine County and said they were holding a special meeting of their own right then and there. The Water Board members made their unhappiness clear during public comment.
The unhappiness continues to point to the fact that APCD Director Ted Schade certified Ormat geothermal's environmental document to drill new wells in Mammoth as part of an expansion project. Schade has said that there has been no evidence of connection between deep and shallow groundwater aquifers that would lead to impacts on Mammoth's water supply. He said he was obligated to move forward on the environmental document.
Schade has also made it clear that he will issue no new well permits to Ormat unless there is a groundwater monitoring plan in place. Mammoth officials feel this does not protect the community. Water District General Manager Pat Hayes said the District had additional information for the environmental process that was not included. Hayes said the statements in the document about impacts say that Ormat's project is "not likely to impact Mammoth's groundwater." Hayes said that's not good enough.
Water Board member Tom Cage said he and the other two board members who attended the APCD meeting, Gordon Alper and Dennis Domaiile, communicated that "what Mr. Schade had certified for the Ormat project was inadequate, lacked our comments and should have had an independent scientific report to check validity and confirm what both sides were stating." Cage said Schade took Ormat's word as gospel and discounted the Water District comments. A lawsuit followed.
At the Alpine County meeting, Water District officials asked the APCD board to rescind approval of Ormat's EIR. Following the unusual appearance of Mammoth's officials, the APCD board did ask Mr. Schade to send a letter to Ormat. That letter addresses the question of whether Ormat can proceed with its project before submitting a groundwater monitoring plan for approval by the BLM. It can not.
The letter says a BLM-approved monitoring plan must be submitted by Ormat with any new well permit applications. Manager Pat Hayes still believes that all the risk of this operation rests on Mammoth Lakes.