In what has been described as Los Angeles Mayor Antonio Villaraigosa's environmental politics, he has, as predicted, appointed former DWP Commissioner David Nahai to head LADWP as general manager. This announcement followed a week-end news report that Manager Ron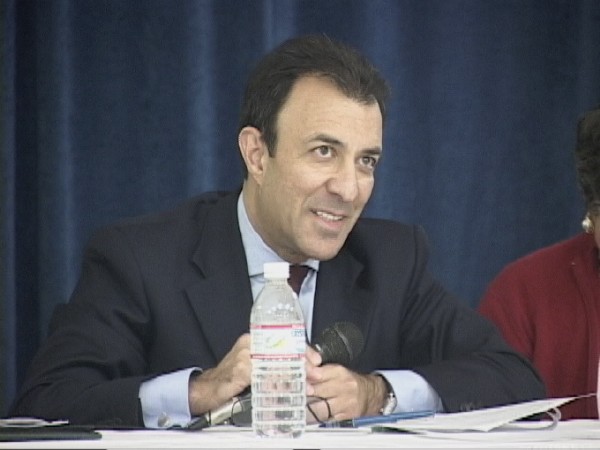 Deaton would retire.
Nahai marks the first general manager who has even discussed environmental concerns. For those in the Eastern Sierra, DWP has represented the colonial power that keeps a tight hold on land and a forceful drain on water.
On Saturday, the Los Angeles Times reported that DWP's managher Ron Deaton had decided to step down. Deaton has been known as one of the most powerful bureaucrats at LA City Hall. The 64 year old Deaton had remained on medical leave since July when he suffered a severe heart arrhythmia. The Times reported that the City gave Deaton a $267,500 separation package.
Today, the LA Mayor's office released the announcement that Mayor Villaraigosa had selected Nahai to run DWP. The release says that this selection "sets the DWP on the most ambitious path of any utility in the nation to modernize and reduce its contribution to global warming."
The Mayor states that Nahai is "uniquely qualified to turn the DWP into the cleanest and greenest power company in the nation." The news release said that while on the DWP Commission, Nahai led the work to increase DWP's use of renewable energy sources. The Mayor also says that Nahai will focus on finances and management.
DWP has taken several hits with accusations of over-billing from contractors.
Nahai owns and operates a law corporation, is associated with real estate interests, has served on the LA Regional Water Quality Control Board for 10 years, the Santa Monica Bay Restoration Commission, and on Governor Schwarzenegger's Environmental Task Force.
Nahai is currently slated to speak at Andrea Lawrence's Alimar Award dinner, November 9th. Nahai has stated that he wants to make active improvements in DWP-Eastern Sierra relations.