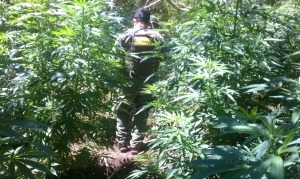 (PRESS RELEASE FROM MONO SHERIFF'S DEPARTMENT)
From: Ralph Obenberger, Undersheriff
Date: August 16, 2012
RE: Marijuana Eradication in the Inyo National Forest
As part of the campaign of the Mono Narcotic Enforcement Team (MONET) to combat the cultivation of marijuana within Mono County, MONET agents, with the assistance of the Inyo Narcotics Enforcement Team, Inyo County Sheriff's Office, Mammoth Lakes Police Department, Mono County Paramedics, Mono County Public Works, California Highway Patrol, U.S. Forest Service, Bureau of Land Management, California Department of Justice (CAMP), and the U.S. Customs Service, eradicated a large marijuana operation located on Forest Service lands in the Inyo National Forest. The Undersheriff said the exact location of the operation will not be released.
The eradication took place on Wednesday August 15th and Thursday August 16th 2012.  Over two days, with the assistance of two helicopters and one fixed wing aircraft, law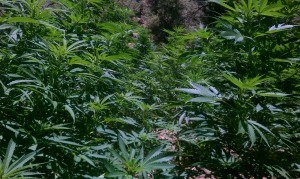 enforcement eradicated approximately 30,000 marijuana plants from a large grow site, which was approximately 1 ½ miles in length, with a potential street value of approximately $108 million dollars.
During the eradication, two suspects were taken into custody within the grow site.  The suspects were identified as Edilio Navarro age 34 of Lake Elsinore Ca. and Nemessis Venegas age 22 of Perris Ca.  During the arrest five handguns and one rifle were also seized.  There are still several outstanding suspects, who are believed to be armed.  The suspects arrested have been booked in the Mono County Jail with bail set at $50,000 each, and they could be ultimately charged in Federal Court.
With these types of illegal marijuana grow sites, public lands are routinely desecrated with garbage, piping material, etc. The U.S. Forest Service will return to the affected area and complete an extensive cleanup and restoration operation due to the destruction of public lands by these cultivators.  The cleanup and restoration is not only time consuming, but labor intensive and is done at a high cost to the taxpayers.
MONET agents would like to warn outdoor enthusiasts of the dangers of locating one of these grow sites. If you see anything that looks out of place such as cleared areas of forest that should not be cleared, fertilizer bags, black plastic pipes, large camps that seem out of place, or actively growing marijuana plants, please immediately leave the area and note the location, if possible, and notify the appropriate law enforcement agency. These large scale marijuana cultivators are routinely armed and are known to protect the gardens in any way they can.