Spirit of the Marathon, the movie that features local runner Deena Kastor, won the best picture award at the recent Mammoth Film Festival. The documentary takes on the great athletic event that is the marathon from the point of view of professionals, like Kastor, to amateurs out to run their first.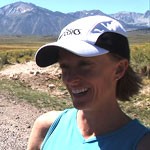 Spirit of the Marathon was produced and directed by John Dunham. Dunham says that he was inpsired to make the movie after he ran his first marathon.
The film focuses on six runners including Deena Kastor. One scene shows Kastor crossing the finish line to win the Chicago Marathon. Kastor watched the footage for the first time at the Mammoth Film Festival. She says that the footage brought back memories of "a lot of pain." She descirbes watching herself win the Chicago Marathon as "excrutiating."
The movie is Spirit of the Marathon. If you missed it at the Mammoth Film Festival, a theatrical release is scheduled for January with a DVD release later in 2008. More information and a trailer is available on the website marathonmovie.com.