– Press release
March 28 will be Manzanar's Annual Volunteer Day, when we invite the general public to work with all park staff for half a day on a preservation project.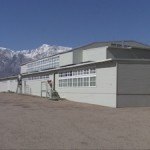 You are cordially invited to join park staff and others in uncovering and preserving the historic administration and staff housing area at Manzanar. We will be removing brush and sand from landscape features, resetting missing stones, and painting stones. Volunteers will be digging with shovels and small hand tools, cutting and loading brush, using wheelbarrows, collecting rocks to reconstruct landscape features, painting rock alignments, and occasionally screening sediments to retrieve artifacts.
During lunch, we will have a special presentation by Art Williams. Art lived in the administration area as a teenager and is the author of "Reflecting on WWII, Manzanar, and the WRA."
Work will be conducted regardless of weather, so please come prepared; bring water, lunch, sunscreen, a hat, and work gloves. We have never had anyone strung by bees, but if you are allergic bring your EpiPen. We will meet at 7:30AM in the visitor center parking lot.
Volunteers must sign up in advance. To sign up, please email[email protected] or [email protected].