Inyo Sheriff Bill Lutze has announced that his department will dig possible grave sites at the Barker Ranch, the one time hideout of the notorious Manson Family.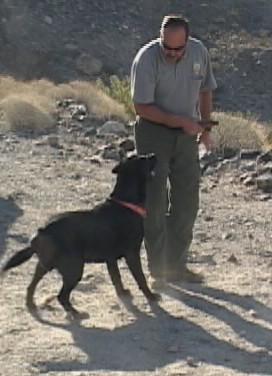 While training his dog Buster to search for long buried bodies, Mammoth Police Sergeant Paul Dostie believed that Buster had zoned in on grave sites at the Barker Ranch. Cutting edge forensic scientists were called in for further investigations in April. Some of the technology used had not been used in the field before.
Now, with evidence collected by the noses of historic grave sniffing dogs, backed up by portable ground penetrating radar, magnetometers, lasers, and a portable gas chromatograph mass spectrometer, Inyo Investigators now believe that there is just enough evidence to move forward with excavations.
Sheriff Lutze says that there was no consistent response from the dogs that searched, and no conclusive findings from the soil samplings tested by the top experts in the field.
Four different methods of testing were used at five sites at the ranch. None of the four techniques completely agreed on any of the sites, Lutze says, but there was enough overlapping evidence on some sites to move ahead with limited excavations.
While he says the evidence is not consistent, Lutze says that he believes that the only way to determine once and for all whether there are bodies buried at the Barker Ranch from the time of the Manson Family is to proceed with limited excavation in a very few areas.
The plan is to start digging on May 20th.
If there are actually bodies where the dogs and the hi tech machines indicate, Sheriff Lutze has said that this case will dramatically alter how police agencies search outdoor crime scenes in the future.
As this news was released, major media from Southern California began jockeying for position to cover the digs. Sheriff Lutze has restricted access to the site.