DWP put up signs along Bishop's Main St. to give fishermen a head's up – gotta pull over and get your boat inspected before heading to Crowley Lake. DWP crews began inspections in the parking lot at Vons Wednesday. They planned to continue this service through Friday.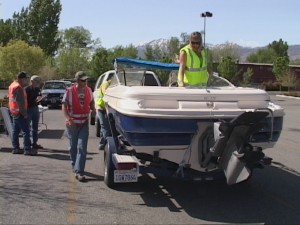 Also, starting Wednesday, boat inspections were available at Crowley Lake's south landing from 8am to 5pm, then Thursday through the fishing season from 7am to 7pm.
Bottom line – only pre-inspected boats will be allowed to enter the gate or launch at Crowley Lake after 7pm April 25th. Inspections will resume at 7am opening day. If you've already had your boat inspected, like these people, you can go through the pre-paid line at the main gate.
Another chance for boat inspections – now through fishing season, DWP will inspect boats at the headquarters at 300 Mandich St. in Bishop, 8am to 3pm. Boats can be inspected after 3pm by appointment. Call DWP.