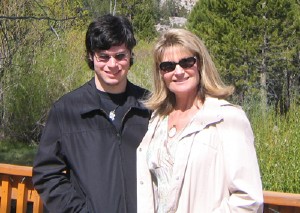 According to the Autism Society of America, autism is the fastest growing developmental disability in the world; and there is no known cure. From Mammoth Lakes, Lori Ciccarelli has worked with her autistic son, Jeremy, and spreads the word to help other parents and children.
Her documentary was featured at the 2008 Mammoth Film Festival. Lori and Jeremy recently offered a presentation in Escondido and appeared on the San Diego NBC station for a live interview.
Lori talked about the importance of tracking autistic individuals beyond the early years of school. Jeremy, who is currently a student at Cerro Coso College, spoke about prejudices against autistic people and how parents should remain aware of their childrens challenges.
Learn more about Lori and Jeremy at their website – and autism at www.transitionsmovingforward.com. Check out video interview on YouTube.