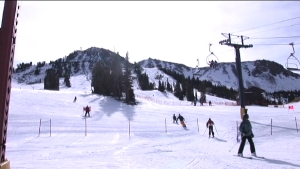 Mammoth Lakes Tourism adds Lara and Laura to its team  (press release)
Lara Kaylor named Media Relations Manager; Laura Brinker named Marketing Assistant
Mammoth Lakes, Calif. (January 8, 2014) —Mammoth Lakes Tourism has added two new members to its team, and chances are, you've met them both before.
Lara Kaylor has come aboard as the organization's Media Relations Manager, while Laura Brinker will serve as the new Marketing Assistant.
Lara Kaylor (aka Lara Kirkner) has served the Mammoth Lakes community for more than 10 years as a local journalist, writing for the Mammoth Times, Sierra Wave, and Eastside Magazine. She most recently served as Editor of The Sheet.
With a thorough understanding of the media process, Lara will efficiently work with journalists on a local, regional and national level to bring exposure to Mammoth Lakes.  Lara will be working primarily with domestic media, both social and conventional, as well as directing MLT's PR firm, Lyman Public Relations and Marketing.
"Lara brings a media background that will help propel Mammoth Lakes Tourism and the general awareness of all of the great things we have to offer," said Mammoth Lakes Tourism Executive Director John Urdi. "Her background in local news media, membership in such organizations as Outdoor Writers Association of California, and her love for Mammoth Lakes make her a great addition to our team. Media visitation to Mammoth Lakes has resulted in millions of dollars in exposure over the past three years and with Lara's attention, I anticipate far more exposure in the future."
"I look forward to bringing continued, as well as new awareness of Mammoth Lakes to media outlets," Lara said.
Laura Brinker is also no stranger to the community, having lived in the area since 2002. The majority of her time has been spent at the Westin Monache, serving in a variety of roles, including Marketing Manager and Revenue Manager.
Laura described herself as a "problem-solver at heart, I enjoy innovating processes and strategies in order to ensure that an organization is an industry leader and operates with maximum efficiency."
"Laura comes to Mammoth Lakes Tourism with an exceptional understanding of sales, marketing and guests service from her many years at the Westin Monache," Urdi said. "Laura will be focused on assisting all aspects of Mammoth Lakes Tourism sales and marketing but will also be instrumental in the rebuilding of the Mammoth Lakes Chamber of Commerce. Laura's relationships in town will be invaluable to her new position with us."
Mammoth Lakes Chamber of Commerce President, Jack Copeland added, "The Mammoth Lakes Chamber of Commerce is pleased to welcome Laura Brinker aboard as a shared employee with Mammoth Lakes Tourism. Laura's previous experience makes her a great fit for both organizations. This is the next step in the implementation of a joint management agreement between the Chamber and MLT. The goal of this agreement is to bring the Chamber and MLT closer together on matters of mutual interest to both organizations to the benefit of the business community."