At Mammoth School District, the leadership change is enough to give an observer whiplash. New people right and left.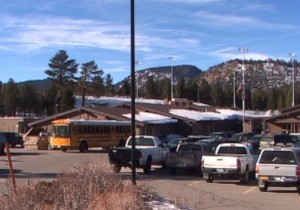 Interim Superintendent Rich McAteer will attend his last meeting Thursday night. New people will follow.
The meeting includes recognition to retiring High School Principal Mike Agnitch and Elementary Principal Patrick Hogan and to Interim Superintendent Rich McAteer. The school board will hold a public hearing on the new budget, discuss English Language Development programs and propose an August workshop on this topic.
Parents keyed in on the Dual Immersion program thought they could press more for bilingual classes in Middle School. That topic may go to the August workshop. Officials have pointed to the fact that new leaders will just start to work in July and have a lot of preparation for the new year.
In fact, the school board decided to re-advertise for the new Middle School Principal. The deadline is July 15th. The Board did hire a new elementary principal. She is Roseanne Lampariello, who will start July 1. She comes from LA Unified School District. Officials said her husband will work at Jill Kinmont Booth school in Bishop. They are in the process of moving to the Eastern Sierra.
Thursday, the school board will meet in closed session at 5:30pm and open session at 6pm in the Mammoth High School Library.