Town of Mammoth officials have confirmed that they have conducted another internal investigation of Police Chief Randy Schienle. In an earlier inquiry that involved the chief and Steve Searles, officials declined to release details of the investigation. The same is true about the new investigation. Officials stated only that the chief was cleared of any wrongdoing. Some town councilmen said they knew nothing about this investigation. All of which raised questions about the Town's personnel policies and expenditure of public funds on internal matters.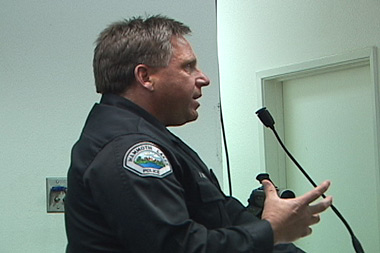 What we do know – both the mayor of Mammoth Lakes and the police chief confirmed that the town manager ordered a special firm to investigate allegations. The town received a complaint that the chief was involved indirectly in a recent domestic dispute that resulted in the arrest of a local man, although no charges have been filed.
When asked about the recent investigation, Town Manager Rob Clark said only that allegations against Chief Schienle were "unfounded." Mayor Wendy Sugimura said that the Town "did an internal investigation and Randy was cleared." Sugimura said she is "very frustrated by rumors that are very malicious, slanderous and hurtful." Mayor Sugimura said she stands behind Chief Schienle 100% because of the work she has done with him and because of what he told her about the alleged incident.
As for any involvement in the recent domestic dispute, Chief Schienle said, "I can tell you this thing is an absolute false rumor. It's been investigated by the town and proven to be 100% false." Chief Schienle believes he has been unfairly targeted, perhaps by citizens with an agenda, for two investigations in which he says he was 100% cleared.
Why did the town conduct an investigation and why didn't the town council know about it or read it? Asked if the town has a written policy on personnel investigations, Town Manager Clark said, no, but that he is the one who determines the need for an internal investigation. Clark said he considers the law and the advice of attorneys. "A personnel investigation is not a public document," said Clark. "It is considered part of a personnel file" which is not available to the town council. Clark said that he, not the town council, is responsible for all town employees, including investigating, hiring and firing. Clark and Town Attorney Peter Tracy are the only ones who can be hired and fired by the council, Clark said.
The alleged domestic dispute case which prompted the recent town investigation, according to District Attorney George Boothe, remains under investigation in his office. At last report no charges had been filed.
Other reports indicated that Police Chief Schienle was subpoenaed to appear before the Mono County Grand Jury, but Town Manager Rob Clark clarified that report and said the Grand Jury issued a request, not a subpoena, to the town for all records and documents relating to the employment of Steve Searles, who worked in the police department.
Manager Clark concluded that the most recent investigation involving the chief resulted from specific allegations of a violation of rules, which, again, Clark said, were "unfounded."