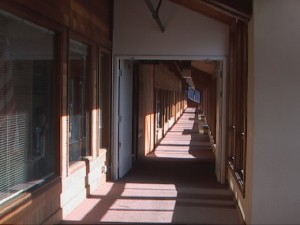 UPDATE: Since we published this story, the Town has issued notice of a closed meeting tonight, Tuesday, October 4, at 6pm in the Town's main conference room.  The topic is the Hot Creek lawsuit debt.  We will keep you updated.
************************
The some  $40 million bad debt from the Hot Creek lawsuit still hangs over the Town of Mammoth.  The details of how much it might cost Town government and public services remains in closed door talks between officials of the Town of Mammoth and Mammoth Lakes Land Acquisition.
More private talks now continue at the Town offices in Mammoth where officials began discussions on Monday and expected to continue through Wednesday.  Last month financial consultant for Mammoth, Marianna Marysheva-Martinez, said that the Town had to postpone September meetings since the first MLLA-specific closed session with the Town Council would happen September 28th. Martinez said that she and others would take information from their talks with MLLA to the Town Council in a closed session Wednesday night.  "We'll see where we go from there," she said.
Martinez had said the delay in meetings with MLLA was necessary to "give the Town's leadership an opportunity to spend uninterrupted time to discuss internally the information needed for our future meetings with MLLA, for management to obtain additional input from the Town Council on settlement parameters, and for the Town's leaders to discuss how to inform and involve the community in this critical process."  The public has remained largely in the dark about specifics in these ongoing talks.
In August, MLLA and Town officials met in Mammoth with what Martinez described as a review of financial documents and answers for MLLA's questions.  At that time, Martinez said future meetings, which are going on now, would "begin brainstorming ideas regarding possible settlement options that MLLA may be interested in and that the Town could afford."
The big question for the Mammoth public – How will payment of this huge debt impact Town government and public services in particular?  At one  point, MLLA had asked the Town to prove acutal benefit from some of its expenditures, one of which was air service subsidy.  MLLA officials were apparently picking through the budget to see where the Town could afford to quit spending and pay toward the more than $40 million debt.