Press release
Mammoth Lakes Fire Protection District (MLFPD) is actively seeking candidates for its 2017 Firefighter Academy. MLFPD is a combination department, meaning that a large portion of the department's ability to respond on incidents is dependent on its part-time and paid-per-call staff.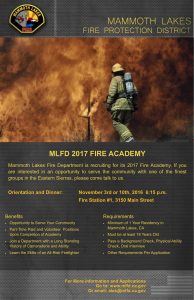 The academy offers individuals the opportunity to serve their community while learning the skills of an All-Risk Firefighter.
Completion of the Academy enables the recruit the ability to work towards a part-time Firefighter position, or to serve as a paid-per-call firefighter.
Benefits include competitive pay, retirement program, life insurance eligibility, and flexible work hours. Academy details can be found at www.mlfd.ca.gov or just stop by Fire Station #1 at 3150 Main Street. For more information, interested individuals should attend:
Academy Candidate Dinner – 6:15 pm – November 3rd or 10th 2015,
MLFD Fire Station 1
3150 Main Street
Please help protect the Town of Mammoth Lakes and forward this information to anyone you believe would be a good candidate.