Controversy at Mammoth Hospital. A large group of employees and department heads crowded into a special hospital board meeting Tuesday. They pled with board members to consider hiring Interim CEO Ed Matthews as permanent CEO, citing his ability to restore morale at the hospital.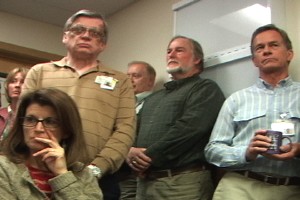 Long-time hospital administrator Gary Myers decided to call it quits at the end of the year and the Mammoth Hospital Board began the process to select a new CEO/ Administrator.
When Myers left, Finance Director Ed Matthews took over as Interim CEO. Many expected he would take over as CEO in due time. Yesterday, sources at the hospital said that the Hospital Board continued to interview candidates from out of the area in search of a new CEO but were not considering Interim CEO Matthews.
Off the record sources said that some employees and department heads felt they were ignored in the CEO selection process. In an open meeting Tuesday afternoon the room was packed and around 15 employees and department heads stood up in support of Ed Matthews, asking the Board to open up the process to consider Matthews.
Hospital Board Chair Don Sage told the crowd that the Board had decided to narrow the field and that Matthews was not a candidate. Sage said the Board feels they need to hire someone with a depth of experience in hospital administration. Those in the audience said that Matthews has created a "sense of family that has been missing at Mammoth Hospital." One after another urged the Board to consider Matthews.
We spoke to Board Chairman Sage after the meeting. He said the Board did consider Ed Matthews but felt they needed a CEO with more experience actually running a hospital. The Board has interviewed 5 candidates, narrowed them to 3 which they will further interview in coming days.
Sage called Ed Matthews a wonderful Chief Financial Officer and said he has helped Mammoth Hospital tremendously.
To rumors that former CEO Gary Myers continues to secretly run the hospital, Sage said, Not True. He did say that Myers continues to wrap up hospital construction contracts, but that's it.
What about the apparent morale problem among workers? Sage said they'll try ot address that.