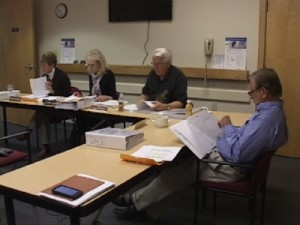 When the Mammoth Hospital Board meets Thursday, they will appoint a new board member.
As we had reported, Board Chairman Jack Copeland decided to resign to avoid a potential conflict of interest regarding Mammoth Mountain's marketing of the hospital.  Copeland heads up Human Resources at the Ski Area.
So, for several weeks, the Hospital has held the appointment open, asking for candidates to apply.  Six residents of the hospital district did apply.  They are Michael Carrigan, Ed Fortenzer, Edyth Irvine, Dr. Richard Hamilton, Rick Phelps and Dr. Stephen Swisher.
The appointment item is the first in open session at 9am.  Closed session starts the meeting at 8am.
In other hospital business, the board will hear financial reports from October and November.  They will hear about a Standard and Poors Rating for the Southern Mono Hospital District.
Under new business, the board will consider approval of an agreement with Dr. Mark Robinson for Orthopedic services.
The Mammoth Hospital Board meeting starts at 8am in hospital conference rooms A & B.