The major fire that totally destroyed a cabin in the Upper Twin Lakes tract of Mammoth could have started in three different ways. That's what Mammoth Fire Department's Division Chief Thom Heller said about the ongoing fire investigation.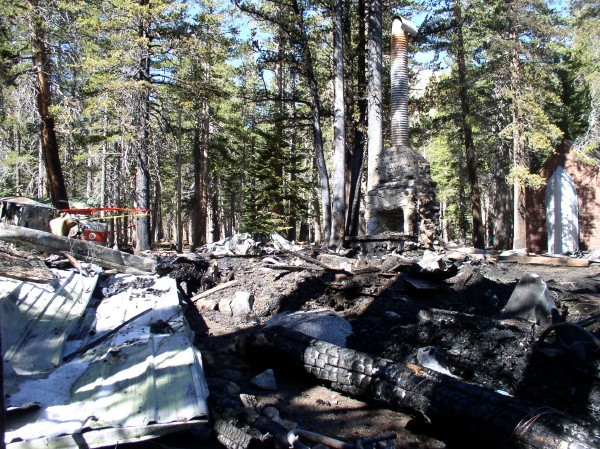 It was between 5 and 6am Tuesday morning that the fire totally consumed the cabin. Heller said the occupant of the cabin, who was identified by his neighbor as Danny O'Dell, woke up and heard popping sounds. "He realized there was quite a bit of flame in nearby rooms," said Heller. "Then, he broke out a bedroom window to escape. He sustained lacerations from breaking the glass and then burned his hands when he tried to re-enter the front of the cabin to get his truck keys."
O'Dell was unable to get the keys, and his truck burned along with the cabin. He was taken to Mammoth Hospital for his injuries.
Heller said that when the fire department arrived, the cabin was fully involved, the truck was burning and the adjoining building was close to igniting.
As we reported yesterday, O'Dell's neighbor, Tim Trimble did have a cell phone, but could not get reception. So, he drove down toward town until he could call 911.
The fire remains under investigation, and Division Chief Heller said that there are three possible starts to the fire. He said there is nothing definitive. The occupant, he said, was having issues with his kitchen stove, he had an electric heater on and had made a fire in the fireplace. The Mammoth Fire Department will continue to investigate.