One day the Mammoth Film Festival may reach the glitzy heights of the Sundance. Resorts and film festivals seem to go together nicely. This year's festival in Mammoth boasts more than 60 films chosen from hundreds submitted from around the world.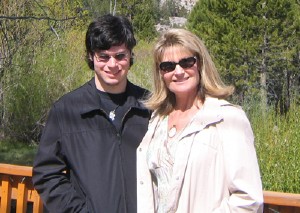 The Festival starts November 13th and continues for 10 days. It's competitive so officials will choose Best Picture and five other categories. Check it all out on www.mammothfilmfestival.com.
On a local note, under the feature film category, one of the 30 films is JJ's Journey, written, filmed and produced by Mammoth Lakes' own Lori Ciccarelli. The 110-minute documentary chronicles Lori's son JJ and his journey with autism.
Lori, very excited about her film's acceptance into the festival, has said that she believes those living with autism can have very happy, productive lives. Her goal, says Lori, is to help educate society and support those dealing with this disorder.
Her audience will widen in November at the Mammoth Film Festival. JJ's Journey first aired locally and was greeted by very enthusiastic audiences in both Mammoth and Bishop.
Lori's film will be part of the festival competition. So, stay tuned.