Winter has breathed dustings of snow on the mountains and for Jim Ouimet of Mammoth Dog Teams his season will come soon. With it, some apprehension about a lease from Mono County for space to house his dogs and gear.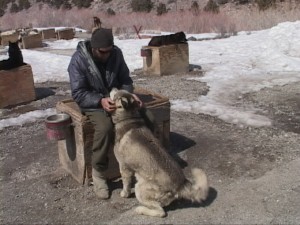 Ouimet went through many months of uncertainty and the possible fate that Mono County would give him the boot from the home for his dog team business. County staff pointed to problems with the buildings on the old sheriff's substation site where Ouimet operates.
This week, the Supervisors did approve a 90 day extension of Ouimet's lease. He nervously points to the fact that it will expire in December when dog team rides begin.
Mono County Administrator Dave Wilbrecht said that the County does have a proposal pending from Mammoth Brewing Company to locate its brewery on that same county land. Wilbrecht said that Jim Ouimet would move to a different area to the west on the property to accommodate Mammoth Brewery. The County will evaluate the brewery proposal to "see if the site makes sense."
Wilbrecht said the County does have a spot for Ouimet's business and is at work on a lease agreement. He said they extended it 90 days to make sure there would be no period without a lease.
Meanwhile, Ouimet has applied for new staging areas for his dog team rides. He will continue to plan to go to work for the season.