Town of Mammoth officials did not hear a response from Mammoth Lakes Land Acquisition before the Town Council meeting Wednesday night.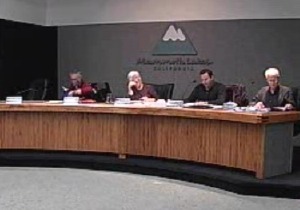 Town Manager Dave Wilbrecht had earlier confirmed that MLLA, holders of the $42 million lawsuit judgment against Mammoth, had made a settlement offer to the Town.  Wilbrecht said Mammoth made a counter offer and hoped to hear back before the Council meeting.
On Thursday, Wilbrecht said the Town had heard nothing.  Officials have declined to offer any details about the ongoing talks and negotiations on the debt incurred over a development agreement at Mammoth Airport.  For many months, MLLA officials asked for and got detailed information about the finances of the Town government.  Apparently looking for a plan to have Mammoth pay the debt, MLLA officials, at one point, questioned Mammoth spending money on air service subsidies.
Town Financial Advisor Marianna Marysheva-Martinez had earlier said that the Town hoped to have a draft settlement agreement with MLLA by the end of December.  She had said that if not by then, "it will not make sense to continue negotiations."
Wednesday night during budget discussions, Martinez said that in January or February there will be a mid-year budget review and discussion of a five-year budget plan. She said that hopefully by January, the Town will know how an MLLA settlement will impact the budget.
The debt that hangs over Mammoth amounts to $42 million and growing.  The debt increases in interest by 7% annually or around $245,000 per month.