A lawsuit over development at Mammoth Airport is scheduled to go to trial next week. While town officials report that the lawsuit should not affect the plan to bring commercial air service by next ski season, the legal bill is expensive.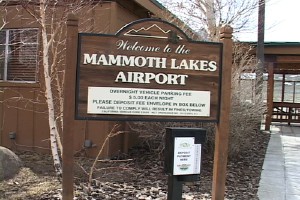 Last time an airport project was shut down in court, the fight was over the environmental documents. This time the lawsuit is a contractual dispute with Hot Creek Aviation over development of property at the Airport. Hot Creek wants to build condos at Mammoth Airport, but the Federal Aviation Administration frowns on certain airport development.
When the FAA staff held a public meeting in Mammoth ,they explained that FAA doesnt want condos or any residential development at the airport. With FAA money needed for the Airport Project, the issue is whether or not the town is responsible for Hot Creek not being allowed to build a condo/hotel project at the airport.
Town Manager Rob Clark explained that right now the cost of the lawsuit has approached $750,000 and could go as high $1 million, before the issue is resolved. Its still possible that the towns insurance will pay for the lawsuit. With an appeal currently in the works, Clark says that he believes the appeal will be upheld and the insurance will pick up the tab. If not, the money will come out of the already strained Town general fund.
With the legal bills piling up, this issue at the Airport could be decided soon. The trial is set to start next Monday in Bridgeport.