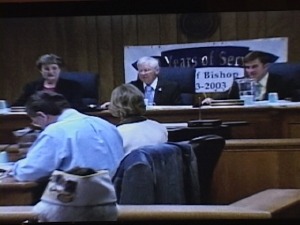 After sometimes irate public response, the City of Bishop will not change the route of the traditional Christmas Parade down Main Street.
City officials said they have looked for ways to cut costs and still bring services to the people of Bishop. But when the suggestion went public to drop the parade route back behind Kmart and Vons, the reaction was a definite no. Police Chief Chris Carter told the City Council Monday night that 75% of those who responded were not in favor of changing the Main Street parade route.
City Administrator Keith Caldwell said there was "a lot of public comment." He said that in some cases people blamed Chief Carter for the suggestion that the parade change. Caldwell said all City departments look for ways to do what's best and to save money. The Administrator said, "Chief Carter should not be the fall guy. It was an opportunity for public input."
The Chief said his department did gather quite a bit of input. He said he appreciated the calls and emails. He said he and Tawni Thompson, Chamber of Commerce Director, wanted the issue out there for response. Carter made it clear that he had no preference.
According to the City, the current Main Street parade route demands all uniformed officers be present to cover necessary street closures. The cost is about $3500. The proposed alternative route would have been less costly.
Councilman Jeff Griffiths asked if, as some had suggested, the Police Department could use volunteers on street closures? Chief Carter said he would not do that because of potential liability and legal issues. Council members thanked the Chief for exploration of the idea.
Chief Carter said he would support the parade route on Main Street unless the Council had other direction. They didn't.