Due to the way that the government pays to fight wild land fires, the Lower Owens River Project could end up saving Inyo County money on fire suppression costs. When it comes to fighting wild land fires in the Eastern Sierra, each agency the Forest Service, Bureau of Land Management, and Cal Fire pays to fight fires in their own jurisdiction.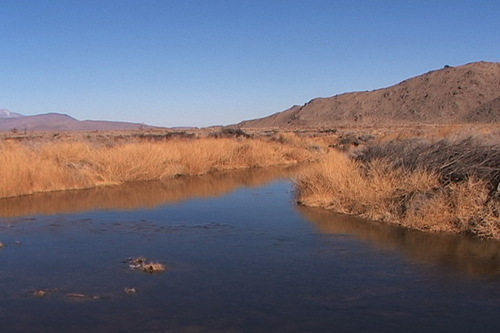 At a recent fire training event for the media, Cal Fire Division Chief Roger Thompson explained that when a fire occurs on Forest Service land, volunteer units, BLM, and Cal Fire can all be called to fight, but if the fire is on Forest Service then the Forest Service cuts the checks to pay for the fire. BLM pays the bills on BLM land, and Cal Fire pays for fire in the states jurisdiction.
Before the LORP re-watered 62 miles of the south end of the Valley, Thompson explained that Inyo County was responsible to pay for fire suppression on 144,000 acres of land east of Lone Pine. The reason was that Cal Fire, (formerly CDF) is responsible to fight fires as watershed protection statewide. Until the river project came along, the state did not consider the Lower Owens a viable watershed and not the states responsibility when it came to fighting fires. With the water back on the Valley floor, Cal Fire pays the fire suppression bills on that sizable chunk of land.
Another way that Inyo County benefits from the LORP, Thompson said.