Good news, bad news, uncertainty, and looming danger mark the latest budget report for Inyo County.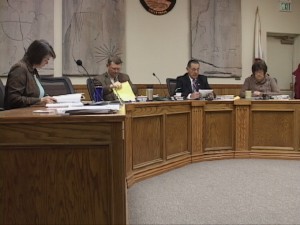 At the supervisors meeting on Tuesday, county staff gave the board the third quarter budget review. While it seems that the County will make ends meet this year, next year holds many pitfalls as the State of California continues to face serious financial shortfalls.
County departments are doing a lot more with less, said County Administrator Kevin Carrunchio, but the bottom line is that the County may end up roughly $4 million short next year out of a roughly $80 million annual budget.
In past years the county has also come up roughly $4 million dollars short, but had used their fund balance of money saved to make up the difference. That fund balance comes from salary saved by not hiring people to fill empty County positions, along with scrimping and saving a a few bucks here, and a few bucks there, Carunchio explained.
Unexpected money coming in also helps build the fund balance that the county uses to carry over the next year. Transient Occupancy Tax, the hotel bed tax, is trending higher than expected and should help.
The concern is that when the fund balance is known in August or so, it may not be as strong as it has been in recent years.
There are also major hits to the money coming in. The Department of the Interior changed the method of sharing geothermal royalties with the County which had led to less money for Inyo this year.
Declining property values will lower property tax revenue as well.
Carunchio called this trend alarming. The adjustment to the lower value of property may also lower the tax that the LA Department of Water and Power pays the County each year for the vast acreage owned by Los Angeles. The payments under what is known as the Phillips formula make up 44% of the tax roll in Inyo County, Carunchio explained.
There are also costs such as health benefits that are expected to continue their long rise that will make for a tough budget again next year.
There are also unknowns. The two murder trials have already led to an additional $150,000 budget amendment to the Public Defender budget, and officials expect that if there is a change of venue in either case, additional expenses might exceed $500,000.
The big unknown is the state budget mess. The state can turn us upside down with the flick of a pen, Carunchio said.
Carunchio told the board that the budget is okay, but not great, but added that in this day and age the budget was, as good as its going to get.