I would like to introduce to you the Lone Pine Community Association in Lone Pine, California. We are a voluntary group of individuals who get
to raise money to complete projects that enhance our community.
Not only the locals have previously stepped up and helped us with many of the projects before, but people out of the immediate area have also
contributed, and now we are reaching out again for help to paint the "Gateway to the Eastern Sierra" mural on the old PPG tank 9 miles south of
When the wrap was originally designed the artist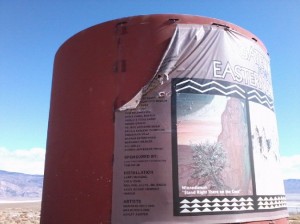 was not able to paint the
complete picture onto the tank. Therefore the group decided, with the artists' permission, to have a vinyl wrap of part of the design made and placed on that tank.
With much cooperation from local business and the from Department of Water Power  the tank was prepared and the vinyl wrap was mounted. Since 2006 when the first vinyl was mounted and  due to our Owens Valley winds shredding it, we have had to
It is seen by all visitors entering Inyo County from the Southern end.
The artist feels now is the time for her with some assistance from other
artists to be able to paint the complete original design on the tank.
So we are having a Fashion Show and luncheon with a salad and potato bar
Saturday September 8th at 1:00pm at the Mt Whitney Golf Course cost
of $10.00 per person. 
We will be having a raffle of the 30 plus items listed here.
There will also be a silent auction with three beautiful baskets. A Beauty
Care Basket donated by Veda's Hair Salon, another called a "Grandmothers
Basket made by Linda Hubbs and the third is an Ultimate Bar B Que Basket
donated by Mr Stubbs Legendary Kitchen out of Simi Valley.
Then there will also be a separate raffle for a beautiful quilt with a
butterfly design.

Anyone wanting to purchase raffle tickets or come to the Luncheon and Fashion
Show can contact Carin at Alpine signs in Bishop, Karen at Film Festival
Museum in Lone Pine, Marlene Cierniak (760) 876-5526 and we can let you know
where to pick up tickets.

The New Coso Heritage Society Inc.
Southern Inyo Museum *a non-profit organization*
and The Lone Pine Community Association
PO Box 671, Lone Pine, CA 93545
E-mail
[email protected]
FUNDRAISER FOR THE MURAL 
TO BE PAINTED ON THE TANK SOUTH OF LONE PINE
Raffle prize tickets $1.00 each or 6 for $5.00- Items listed below.
Please write the item you want on the back of your ticket 
with your name and phone number.  Need not be present to win. 
Drawing will be at the Fundraiser Luncheon and Fashion Show Sept. 8th 2012 Saturday 1PM at Mt. Whitney Golf Course- Salad and potato bar luncheon.
Tickets $10.00 each.
1. 250 PSI Air Compressor.  DONATED BY DAVES AUTO PARTS
2.  1.75 Liter Barcardi. DONATED BY LEE'S FRONTIER

3.  1.75 Black Velvet.     DONATED BY LEE'S FRONTIER

4.  Hanging Pottery Bird Bath.   DONATED BY AIBONITO
5.  Eastern Sierra Mural T- Shirt.  DONATED BY ARTIST MARIAN SEITER

6.  Orange beaded handmade necklace.  DONATED BY COUNTRY SCENT

7.  Multi colored bead bracelet   DONATED BY COUNTRY SCENTS

8.  Cookie jar w/ picture of Mt Whitney.  DONATED BY AIBONITO
9.  Martin complete fly fishing kit.  DONATED BY LONE PINE SPORTING GOODS

10.  Nebo 5519 CSI Edge Led flashlight. DONATED BY HIGH SIERRA OUTFITTERS

11.  Pottery pie dish and mixing bowl in blue. DONATED BY AIBONITO
12.  Pottery chips and dip dish and salt & pepper shakers in blue.  DONATED BY AIBONITO

13.  Pottery casserole dish w/ lid and mixing bowl in blue  DONATED BY AIBONITO

14.  $50.00 Gift Certificate for propane.  DONATED BY LONE PINE PROPANE
15.  $50.00 Gift Certificate for propane.  DONATED BY LONE PINE PROPANE

16.  Pottery soap dish blue and green.  DONATED BY LONE PINE CHAMBER OF COMMERCE

17.  Pottery peanut bowl in green.  DONATED BY LONE PINE CHAMBER OF COMMERCE

18.  Horse and foal picture frame.   DONATED BY LONE PINE ROCK SHOP

19.  50 LBS of wild bird seed.  DONATED BY LONE PINE FEED STORE
20.  One free night stay at the Comfort Inn   DONATED BY COMFORT INN

21.  $20.00 Gift Certificate at the Espresso.  DONATED BY ESPRESSO PARLOR

22.  Faux stained glass pane with beautiful peacock. DONATED BY MR & MRS PATRICK ROACH

23.  Handmade beaded necklace and ear rings, pastel colors  DONATED BY NANCY SCHEFFER

24.  Framed autographed picture of Tab Hunter.   DONATED BY MR & MRS P. ROACH

25.  Four (4) Tire rotation and inspection of tires  DONATED BY MILLERS TOWING
26.  Onyx skull and cactus wind chime      DONATED BY LONE PINE ROCK SHOP
27.  $100 Gift Certificate at Gardner's   DONATED BY GARDNER'S HARDWARE
28.  $25.00 Gift Certificate    DONATED BY PIZZA FACTORY

29.  $25.00 Gift Certificate   DONATED BY PIZZA FACTORY
30.  Basket from the Post Office
A SEPARATE RAFFLE FOR A BEAUTIFUL HANDMADE QUILT… $1.00 EACH OR 6 FOR $5.00
There will be a separate 'SILENT AUCTION' FOR Three (3) Beautiful Baskets  
CONTACT Marlene (760) 937-0837  or Margaret at Gardner's Hardware 
    or Southern Inyo Museum 127 W Bush St. -Thurs., Fri., Sat.