Mammoth Police say they solved many crimes with the arrest of one man. This part of the story started with a Mammoth business owner's report of tools stolen by as former employee. Mammoth Police said that the suspect, a parolee, had moved to Bishop and based on information provided by the victim, officers worked to get a warrant issued by state parole.
Last week, an off duty Mammoth Lakes Police Officer said he spotted the suspect's vehicle in Bishop. That's when the Bishop Police got involved. They found the vehicle at Bishop City Park. Officers impounded the vehicle and a lap top computer among many other items in the vehicle. Officers said the computer fit the description of one stolen from the Mammoth Lakes Library in 2006.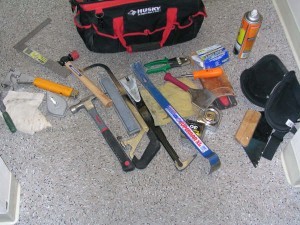 A Mammoth Police Officer drove to Bishop to look at the other items in the vehicle. Tools were positively identified as stolen from the Mammoth business owner. Mammoth Police determined the suspect was living in a trailer in the Tungsten Hills northwest of Bishop. Officers found the trailer and more stolen property – including racing shocks, climbing gear, a Yakima Space Box and a bicycle – all stolen from Mammoth Lakes.
37 year old Shawn Snyder of Mammoth and Bishop was arrested for parole violation with charges pending from the Mono District Attorney's office related to the stolen items.