PETS of the WEEK – July 18, 2012
Photos by Lisa Schade
If you've been looking for a small dog, the Animal Shelter has several for you to choose from!  Big Pine Shelter Animals are just $10 the month of July (instead of $50).  Here are just two for your thoughtful consideration: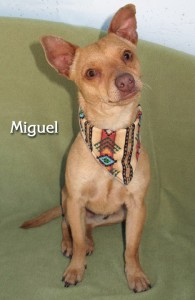 CHICO-RICO is small, 9-month old, black and white Terrier mix. He weighs about 9 lbs. and is approximately 10″ at the shoulder. This little fellow is the perfect walking companion and friend!
MIGUELITO (little Michael)
 is a darling Chihuahua mix. He weighs about 6 lbs. and is about 8″ at the shoulder. Miguelito is a joyful boy with mucho love to give.
The Inyo County Animal Shelter has an amazing selection of adorable cats and lovable dogs. Please adopt one today. Visit in person on County Road in Big Pine or on-line at
www.ICAREforPets.org
. HOURS: Tuesday thru Friday, 10 am to 3 pm, Saturday and Sunday 11 am to 4 pm (closed Mondays). Phone 760-938-2715.