The lights went out, chairs stacked on tables, equipment waited for a mover. The master lessee of Cottonwood Plaza in Bishop, Chuck Caldwell, had forced another business out. Burger King closed its doors yesterday on Main St.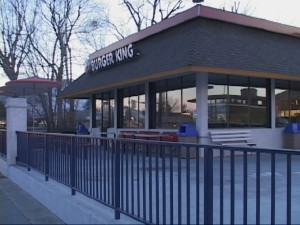 Owner Doug Houtz led the somber crew to move out and clean up. It was another in a string of business exits for the center. Houtz expressed gratitude for the 8 years he was able to run the business, but clearly the loss of the lease was a blow.
Caldwell, who headquarters in Southern California forced out most of the tenants – good paying, some long time local businesses. Inyo County had leased a large space for offices.
What's his plan? It's hard for locals to figure. Caldwell had cash flow, now he will have an abandoned center. Mr. Houtz judiciously said of Caldwell, "It's his lease and his decision."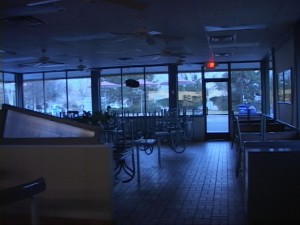 Others have not reacted so evenly. We continue to receive emails from Bishop residents, downright angry at the gutted plaza, once a vibrant shopping center.
The only businesses left to leave – Imperial Gourmet, with a brand new building going up on Main St. and Subway, with reports of a move to another location in Bishop.
We'll have more on Cottonwood in Bureaucrat Beat.