What firefighters feared came true Friday afternoon. As clouds rolled in over the Eastern
Sierra, so did lightning and then fire. Blazes broke out in the upper elevations of the Sierra
above Independence and Big Pine.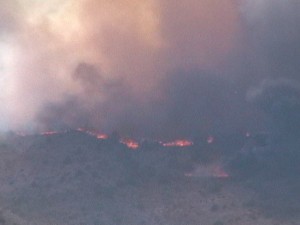 Nancy Upham, Public Affairs Officer for the Inyo National Forest,
reported that in one hour, ten fires ignited from lightning. At last
report, the biggest fires were north of Oak Creek and in the Seven
Pines cabin area both in the Independence area in the foothills of
the Sierra.
Firefighters, Sheriffs deputies and CHP officers descended on these
scenes and evacuated Seven Pines, the Oak Creek Campground and
residential areas in Oak Creek. Helicopters dropped water on the
inaccessible fire scenes, but wind drove the fire north.
Inyo Sheriff Bill Lutze went to work in the Big Pine area where he
helped to evacuate Big Pine Canyon campgrounds. Fire burned north of
Baker Creek in the foothills. Flames could be seen along a quarter-mile
expanse of a ridge there.