By Charles James
It should come as no surprise to anyone that the frenzied buying that takes place during the Christmas season is also accompanied by an increase in theft. And with the booming online gift ordering business, many packaged gifts that are delivered right to the front doors of customers' homes are now prime targets for theft. Porch theft has become so common that the term "Porch Pirates" has been coined to label the culprits.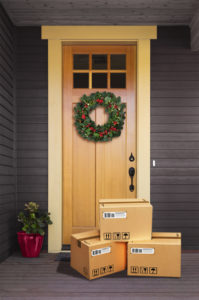 This holiday season, United Parcel Service (UPS) estimates that it will deliver 750 million packages. That's up from 712 million last year and up from 500 million just five years ago. The United States Postal Service delivered at least 750 million packages in the 2016 holiday season, and anticipates an increase of 10%-12% this year. FedEx, which is slightly smaller than UPS, hasn't released a prediction of its package deliveries, but considering that it is likely in the 500 million package range. Add all of that together and you are talking about a massive number of cardboard boxes and packages being left on the front doorsteps of people's home, most of whom, are away at work.
There will always be a window of opportunity for thieves to steal packages. Some of the more efficient thieves follow UPS and other delivery trucks, stealing packages as they are dropped off. Other packages are often left outside on the porch for hours after delivery.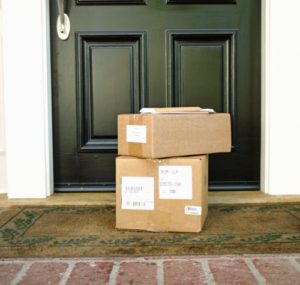 You can prevent porch piracy by planning ahead.
Schedule your deliveries so that you're home when packages arrive, and require a signature;

Have packages delivered to a neighbor who IS home;

If you can't be home, have a trusted friend or family member pick up your package and hold onto it;

Arrange to pick up your packages at the store or at the delivery company's closest office;

Have the packages delivered to your work;

If you are not home, leave lights on inside the house or have a radio playing to a least give the impression that someone is home;

If it's a trash day, ask a neighbor, if available, if they would put your trash can away, or at least take off the street. A trash can left sitting out on the street is a dead giveaway that you are likely not home;

Use technology such as home surveillance camera systems such as the Ring Video Doorbell. The cost is generally around $200;

If you witness any suspicious activity in your neighborhood, call the police or sheriff department;

Remember that many credit card issuers offer theft protection, so if your package is stolen, be sure to file a report with the police immediately. Send a copy of the report to your credit card company. They'll refund your purchase, up to $500 or $1,000, depending on the credit card company's policies. 
Finally, if you use social media such as Facebook, don't be shy about letting your friends and neighbors know of any suspicious persons, activity or theft in the community. You might be surprised at just how effective using social media can be in our small rural communities.