The fish tradition goes on. For decades, anglers from Southern California and right here, get up early Saturday morning, really early, and toss their lines into one of lots of waterways.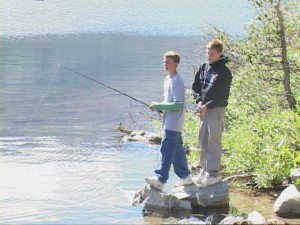 This year, Dennis Redfern, Hatchery Supervisor for Fish and Game, says crews are planting 40,000 pounds of trout in the waterways of the Eastern Sierra. It's pretty much the same volume as last year's opener plants.
Redfern called it a typical year, with a good snowpack and upper lakes still frozen. Fish and Game has been planting lakes and streams for the last two weeks to get those 40,000 pounds where they belong.
Redfern did caution that fishermen take care on icy lakes. With fluctuating weather, the surface can be very thin and dangerous.
Aquatic pests made things a bit more complex this season. First, the New Zealand Mudsnail caused Fish and Game to switch most of their trout rearing to Fish Springs Hatchery near Big Pine instead of Hot Creek near Mammoth.
The switch has made logistics for Fish and Game tough, but Redfern said they're moving fish into Mono from Fish Springs. Inyo, too.
The other complication – Quaqqa Mussels – the pest that has created major trouble in the Great Lakes and other waters across the country. Boat inspections continue for Crowley Lake. DWP will inspect boats on an ongoing basis at DWP headquarters in Bishop and through Friday in Vons parking lot in Bishop. Inspections will also continue at Crowley Lake.
DWP has taken many steps to regulate boats that will launch into Crowley Lake, but the Forest Service has not required boat inspection in the many lakes on Forest land. Public Information Officer, Nancy Upham, said the Forest Service does not have jurisdiction over the lake surfaces and does not have entry control points at the lakes. So, the Forest Service will do nothing right now to regulate for the presence of Quaqqa Mussels.
Upham did say that the Forest Service encourages the public to get their boats inspected no matter what lake they plan to go into. The Forest Service, she underscored, is not set up to do what may need to be done in relation to the aquatic pests.