The environmental lawsuit that requires Fish and Game to run the entire state trout hatchery program through the California Environmental Quality Act process could lead to a short term shut down for fish stocking.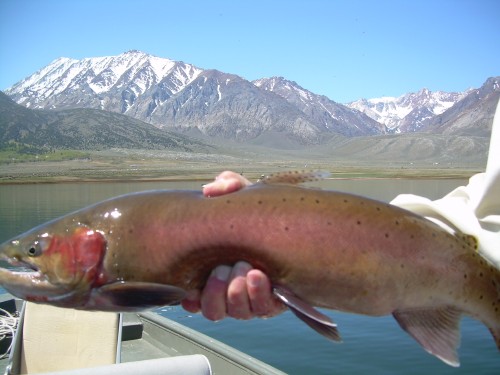 State Fish and Game staff plans negotiate with the Stanford Law School petitioners to get more time to finish the environmental impact report for trout stocking programs in California.
Depending on the outcome of those negotiations, Fish and Game Officials report that the department might face an injunction that could stop or significantly reduce fish stocking programs in California.
Fish and Game officials report that in 2006 Stanford Law Students sued the Department of Fish and Game over stocking fish in California. The lawsuit led to a court order that requires DFG to run the hatchery program through the California Environmental Quality Act process.
The court order required that an Environmental Impact Report to be finished this year. Fish and Game staff now wants more time to finish the EIR, which DFG officials say is scheduled to be completed in January of 2010.
One of the reasons for the delay, according to Fish and Game, is that the Federal Fish and Wildlife Service helps fund certain state fish hatcheries. The USFWS wont continue to send money toward the state hatcheries until the stocking program is run through the National Environmental Protection Act process, making the final product a joint environmental impact report/environmental impact statement.
Fish stocking, which could include back-country and front country waters, is threatened by this recent legal injunction in the short term, but the long term future for hatcheries remains uncertain as well.
Stocking reservoirs like Crowley and South Lake might not change regardless of the outcome of the EIR/EIS process, but one area of potential conflict is the high mountain lakes.
Most high Sierra Lakes were fishless until trout stocking started in the 1880s. Scientists who have studied the decline of the Mountain Yellow Legged frog have listed introduced trout as a major factor in the decline of these amphibians. Fish and Game officials have said that there is potential for trout removal from certain high mountain lakes along with reduced stocking.
In the next two weeks, DFG officials plan to meet with the petitioners from the Stanford Law School to negotiate for more time to do the environmental impact report. Trout stocking in the short term depends on the outcome of these negotiations, the long term future of the hatchery program depends on the outcome of the federal and state environmental processes, slated to be done in 2010.