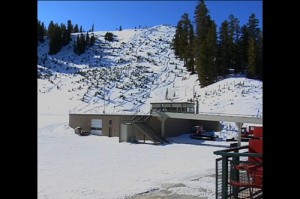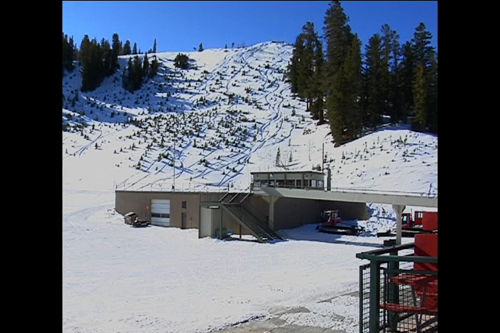 June Lake residents, fearful that June Mountain will either not re-open or will fail due to lack of facilities, reached for what they think may be their only leverage – pressure on the Forest Service to make Mammoth Mountain's land exchange at the Main Lodge contingent on a successful June Mountain. The Mono Supervisors expected to hear from residents on that Tuesday. Letters in the Board packet show that most environmental groups support the land exchange.  Citizens want the land trade contingent on the opening of a sustainable June Mountain.
The last item on the Supervisors' agenda is a request from Mammoth Mountain CEO Rusty Gregory for a letter in support for the land exchange between the US Forest Service and Mammoth Mountain Ski Area. That trade has been in the works for some 15 years. In it, the Forest Service would give the Ski Area acreage at the Main Lodge in exchange for close to 100 acres around Mono Lake that the Ski Area bought from the Cunningham family.
Officials said the item was nearly pulled from the agenda because Mammoth Mountain wanted to wait for additional information. No Ski Area officials were expected at the meeting. Supervisor Tim Alpers said he will set another discussion on this issue at a meeting in April. Alpers said that the item would go forward Tuesday for public input.
The agenda packet includes letters from June Lake residents and local environmental groups. The Mono Lake Committee, Eastern Sierra Land Trust and Friends of the Inyo all support the exchange for land around Mono Lake. The environmental groups say the trade will protect natural resources in the Mono Basin. They say nothing at all about June Mountain or the June Lake community.
One environmental group, however, did support a better June Mountain. The Range of Light, Toiyabe Chapter of the Sierra Club did support the land exchange but said a commitment from Mammoth Mountain regarding June Mountain should "involve substantially more than a vaguely expressed oral or written statement by Mammoth Mountain to do something." The Club said Mammoth needs to upgrade June or sell it.
Some ten letters from June Lake citizens oppose the Mono Supervisors' endorsing the Ski Area land trade and plead for support, instead, of an open and improved June Mountain. One resident, Joe Blommer, said the land exchange should be based on the "submittal, approval and public disclosure of Mammoth Mountain's plan for June Mountain's sustainability."
Mammoth Mountain submitted information to show the numerous improvements in the skiing facilities that would be made on the exchanged land. The Mountain also points to a considerable tax benefit for the County, based on Main Lodge improvements.
Officials estimated that this item would come up for public input at around 2:30 Tuesday afternoon.