The Town of Mammoth Lakes Public Works Director Ray Jarvis turned lemons into lemonade at the Nov. 19 Town Council meeting by refusing to focus on the negative aspects of the tunnel collapse on Lake Mary Road on Oct. 10, and instead focusing on the three items he thought were highly positive.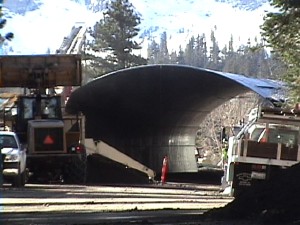 There were no casualties, there was great collaboration between the entities to deal with the problem quickly and efficiently, and the bridge is already back in place and the backfill is being completed, Jarvis stated. He added that the ski slope is still on track to be ready for operation by Thanksgiving, as long as Mother Nature cooperates, of course.
From the beginning, the Town and Mammoth Mountain Ski Area divided the task of getting the bridge and Lake Mary Road functional again. The Town was responsible for the clean-up of the collapsed bridge and MMSA was responsible for the installation of the new bridge, according to Jarvis.
At this time traffic is allowed under the bridge between 6:30 p.m. and 6:30 a.m., but Jarvis expected there to be unrestricted access by this weekend.
They are still finishing the south headwall and we would hate for any bricks to fall on cars, Jarvis explained.
The report from the forensic engineer that was called to the scene the day after the bridge collapsed is expected to be available to the public the week after Thanksgiving. This report is expected to reveal the cause of the collapse.